The actual attenuation is controlled via a three position switch, avoiding the issues with mediocre attenuator pots robbing the sonics of heft and tone. The most attenuated position leaves surprisingly robust breakup at a shade over natural string loudness. It's THE answer to your significant other wanting to burn a hole through the center of your skull. The current Night Light actually has FOUR LEVELS of attenuation, broken down below.
If this was all the Night Light did, it would be good enough. Yet ole Michael didn't stop there. He wanted a way to link up TWO amps, the first driving the second via it's full OUTPUT stage, bring all the effects PLUS power tube drive, this reduced to proper input level, then fed through the INPUT of the second amp! The number of tonal variations is staggering; simply put, this is a boon for all Tone Explorers. Run an AST into a ST-6V6se! Or how about the STR-tweed into the little ST. Man, it's just too fun to be legal. I could ramble for 10 paragraphs and still not get near all the possibilities with this setup. When you add in the attenuation aspect, this little magic box gives more than it has a right to.
Lastly, it's compact, and cool to stare at, just like all the Swart gear. And last but not least, it makes a great NIGHT LIGHT! Bring your whole family in to gaze at the beauty. Or not.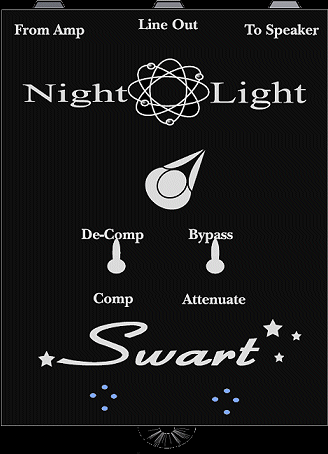 The night light is very portable and built like a rock. It's the size of a small effects pedal: 4.67" L x 3.68" W x 1.18" H. This thing can practically fit in your pocket.
The Night Light was designed specifically for the ST-6V6se, STR, AST, and AST Pro. But even though optimized for the Swart brigade, the Night Light will work with ANY amplifier 22w or less with the light compression, 30w with it off. In addition, it's designed for 4-8ohms load. 16ohms will not work with this version of NL.
Bored by the plethora of text? Hit the bullets:

Attenuation settings (4 Attenuation Levels)