"Man, I'm just blown away" - Too many to count...

There are so many comments from Swart owners pouring in weekly, that it's been near impossible to keep this feedback updated. Everyone from Jeff Tweedy, Dean Wareham, Buddy Miller, John Oates, Trey Anastasio, Vince Gill, Keith Urban, Walter Becker, Jack Johnson, Andrew Bird, Paul Pigat, Michael Kiwanuka, Ray LaMontagne, Leo Abrahams, Joe Santiago, John Flansburgh, Paul Leary, Greg V, and on and on love their Swarts. Many more comments are linked from the NEWS page. The response has simply been astounding and it's so great to hear from people that appreciate the difference.

Thanks again! - kh

"I've been playing electric guitar for forty-two years now, and the Atomic Space Tone is absolutely the finest amp I've ever played through. It will be a long time before I plug into anything else. I've been playing through these amps about 6 hours a day since I got them! There is no other amp in the world that I'd rather be playing through now.
You have delivered me the tone that I have been looking for all my life. I am totally blown away by the sound, the look, and by how small and light they are.
If it never went above "2", it would be an amazing amp. But when I cranked it all the way up, it just went into orbit. It sounds like the Beatles on Volume 1 through 2. Like stoned Beatles on 3 through 5. Like The Undertones on 10. For the hell of it, I tried it all the way down to zero, and it still sounded great - like a nicely blown huge amp in the distance. Every volume and tone level combination is sweet. Low volume has chime and sustain, loud volume has growl without issues.
These amps have brought me so much joy in so little time. They sounded so good with no pedals, I was worried how it would react to them. Everything in my pedal board sounds better now, especially my old 808 Tube Screamer. Do you have a Hughes Kettner RotoSphere? You might want to try one out with two ASTs. Lately, I've been playing my ASTs with the volumes set on "1". There isn't anything I can't do at that setting. And have you ever tried the volume set to zero and the reverb turned all the way up? I'm telling you, its cool.
My hopes and expectations have been greatly exceeded. Your design is a masterpiece."
Paul Leary
Butthole Surfers / Carny / Producer


"I just bought two of your amps from Musictoyz. I started with the Space Tone 2 weeks ago, & just got an Atomic Space Tone.
I produce/engineer lots of records & a monthly XM radio show called "Robbie's Secret Country" with Yep Rock artist Robbie Fulks. I have a large collection of amps (vintage & new Marshalls, vintage & new VOX, vintage Hi-Watt, vintage Fenders, Kustoms, Gretch, Epiphone, Tone King, Magnatone, Dr. Z, Z Vex, etc...).
I have to say the Atomic Space Tone is possibly the best recording amp I have ever heard.
I am normally a big EL84 (EL34) fan, but this amp seems to do it all (I don't work with many "scooped metal" tones). It sounds great with an old Neve 1063 mic pre & an old U-47 (U-87) or Sennheiser 421. Great reverb & the best tube tremlo I have. It is very quiet & works extremely well with Joe Barden pickups. You can barely tell the amp is on with that combo, even playing in the control room by the dreaded computer monitor. I can't say enough about the Swarts.
Thanks for the great amp, & I look forward to checking out anything else you make. Oh, and thanks to Paul from the "B H Surfers" for the volume on 0 reverb on 10 trick. It will get used around here.
Jay O'Rourke
Rax Trax Studio
Producer / Engineer / Guitarist

"The Atomic Space Tone is the amp I've been waiting for for 25 years! Real tone, lush reverb, thick tremelo and perfect break up at regular volume-and everybody loves the tweed. I'm retiring my Deluxe."
John Flansburgh
They Might Be Giants

Am still loving the amp... I plugged in a Stratocaster and turned up the reverb and tremolo and the sound is inspiring.
Dean Wareham
Galaxy 500 / Luna / Dean & Britta

Hi Michael,
I just wanted to let you know how much I love your SST-30. I really wanted to send this to you after a couple of days with the amp, but I deliberately waited a bit longer to make sure. I'm sure now!
The tone, build, and craftsmanship are simply first rate. I cannot imagine owning a better built or better sounding amp. I play out with a bunch of guys on Saturday's and my SST (serial # 006) sounds as good or better to me than the Dr.Z's, Victoria's, Germino's, and vintage Fender's that we also use. And those are some pretty nice amps. I'd take the SST over ANY of them!
Just wanted to say thanks for making such exceptional amps. Whether using my Historic R0 Les Paul or my Eric Johnson Strat the tones are are nothing short of incredible.
I'm looking forward to making great music with it for the rest of my life (see my rig below). Keep up the great work.
Sincerely,
Heinz Werner
Swart Amp devotee for life!

Michael Swart is really onto something special with his toneful and artful designs...it feels as though I'm gliding amongst the notes of a sonic vista.
The Atomic Space Tone has been my go-to club amp and I've received lots of praise on its tone. The little 5 watter is getting tons of use here as my studio/practice amp. It works great with pedals as well. Feels wonderful to play with nice Sag and compression switch setting for low volume.
Greg V
Guitarist Etraordinaire

Mike I love you!!
I purchased a 30 watt head & cab along with the 5 watt 6V6 combo from G Guitars in New Haven, CT. I love you man!
I have given up my Marshall's for your amps!!! I customized my Marshall's to KT 88 tubes and yet your amps sound more unique and sooooooooooo smooth.
I've played since I was 14 (now 32) and your amps sound so refreshing. I loved my Marshall's, but your amps have a character and class that is like new air. God, F**king thank you man!!!!!!!!!!
I cant say enough.
You did what no one else has in 30 years! You are the next Jim Marshall!! F**k Fender, your are the next amp God. Thank you for existing!
William Heinrichs
New Haven, CT

"...My all time favorite guitar amp is the 100% tube-driven Atomic Space Tone from boutique amp builder Swart Amplification.
I got one of these in for review on my blog, but after spending three weeks with the amp I quite honestly couldn't bear parting with it, so I just bought it outright.
Tiny & light, with just 20-watts of power and a single 12" custom Mojotone speaker, the Atomic Space Tone is simply the most expressive amplifier I've had the pleasure to play. In fact, it blew my tweed Fender Blues Deluxe right out of the water––an amp that I was quite happy with until the AST came along.
Tube reverb. Tube tremolo. JJ5 AR4 rectifier. Dual JJ 6v6s for power. 12AX7 in the preamp. Carbon comp resistors. Tweed & Oxblood covering on a finger-jointed, hand-made pine cabinet.
I've never played such a soulful amplifier in my life, and it's surprisingly loud as well... I haven't taken it on stage as of yet, but I don't expect to have any trouble in a small club. A mic should take care of it if I do.
In fact, looking at Swart's website this morning I discovered that two of my favorite artists are playing the Atomic Space Tone as well––Jeff Tweedy of Wilco, and the incomparable Dean Wareham, currently of Luna, but previously frontman of one of my favorite bands of all time, Galaxie 500.
You can see my full review over on my blog: REVIEW: Swart's Immaculate Atomic Space Tone.
Not cheap, and probably not for the confirmed metal-head, but a tube amp that absolutely blows the competition away, IMHO."
Cary Miller
Electric Guitar Review
Tube Freaks Guitar Forum


Stu Comments on the Super Space Tone 30 & Cab

All new from one of my all time favorite amp designers.....Michael Swart.
This new amp starts off with clean tones that are very full and thick and have a feel that reminds me of a good old tweed amp at moderate volumes, but it has a sweeter less abrasive and easier to play top end and a very tight and controlled low end with just enough looseness to feel like it's moving some air.
This is easily one of the thickest, creamiest, most complex amps at gain that I have ever heard. There isn't a harsh frequency anywhere to be found and dialing up perfect single coil or humbucker tones is as easy as turning the Volume and Tone controls to their maximum settings of 11.
There are all kinds of wonderful in between tones to be found at other settings, but the simplicity and ease of knowing you can always just crank it and have it sound perfect is a real boon for players who like minimal fuss in dialing their amps in.
In the Hi gain setting the Super Space is pure creaminess. No mud, just thick, harmonic goodness with gobs of sustain. The Lo gain setting backs things down the perfect amount for a slightly more vintage response and gain level.
As with Michael's original 20 watt Atomic Space Tone, the Super Space has gorgeous reverb and deep, organic tremolo that will pulse you right over the edge of the stage at its highest settings.
The Super Space is easily loud enough and has enough headroom to work in any small to medium sized club I would ever play, but it is so smooth, fluid and rich that it never seems brutally loud.
Matching cabinet is gorgeous and sounds as great as it looks. Loaded with Dual Celestion greenbacks.
Stu
Fat Sound Guitars

Michael,
The Super Space Tone 30 is world class! Oh my god what an amp you've built here!
It arrived on Monday, but I was out of town until Thursday. So I picked it up yesterday, got it home, plugged it in (nice touch including a speaker cord with it, by the way!), and just went nuts with it. It helped that the GF was out for the evening so I didn't lose that half-hour of "well, yes, technically this IS a new amp, but it's different from that, ya see...".
I plugged it into a Celestion Gold in a semi-open 1-12 cab and tried a jillion different guitars and each sounded better than the last.
Something I'd never tried before was cranking the amp - vol and master on 'stun', tone all the way up, 'verb all the way up, some throbbiing trem - and then playing quietly using the guitar volume and tones, but that worked like a charm and really gave a nice sense of the amp's voice. Which is incredible.
Okay, so I've got a whopping hour or two on it, and I'm sure some of this is honeymoon, but it's obvious you've built a lifetime achievement amp with the Super 30. I have (and worship) the AST, but this one has everything I love about that plus bigger balls and the master that lets you get super wacked out sustain at low volumes. Not sure how it happened, but I managed to get feedback on a Les Paul at conversational level!
Anyway, I just wanted to let you know that the amp arrived and it's everything I was hoping for and more. And I love the black tweed!
Thanks very much -
David Kelly

Michael,
At the risk of sounding a little schmaltzy, I really feel like I have been waiting for years to meet your amp. It fills a place in me as a musician that is so rewarding. It isn't just the great variety of tones available at a perfect volume, not to mention excellent reverb and tremolo all in package - this amp has SOUL. A ton of it. And it inspires me to play so much better as a result, to explore and push my technique because the amp can give me SO much touch-responsive tone on tap.
I don't know what you did, but you have created an amp that is an instant American classic, and I really mean that. So again, thanks so much for having the vision to create this little beauty.
Geoff Brandenburg
I have been playing your Limited Edition AST Head now for 3weeks and all I can say is... WTF! This thing is FU#%ING AMAZING!!!
I am 43 years old and have owned/own the following amps:
Bruno, Fargon , Fuchs, Germino, Two Rock, Fender, Marshall, Mesa, Bogner, Vox, Egnater, Dumble(I was a manager at Manny's in NYC, and sold THAT amp WAY before it was worth what they are TODAY; If i had only known) Well you get the idea. I have been around the block a FEW times with gear.
So I want to be CLEAR when I say I have NEVER, EVER been as impressed with an amp as I was when I plugged in the Swart AST Limited Edition Head! Did I say NEVER? Yep, never have. I've never played an amp that brings out this much of YOUR sound, YOUR TONE, YOUR voice. NEVER.
I play a variety of styles: Fusion, Prog, Experimental, Jazz. This amp is NOT for a player who is looking for an amp that will cover up mistakes. It's for the player that is established and wants an amp that will further develop HIS/HER OWN VOICE. That being said, this amp WILL make you play BETTER because it SOUNDS THAT good.
I am NOT endorsed by ANYONE. I have paid for EVERYTHING I own, even the gear that wasnt worth 1/2 of what I paid for it. And I WILL be first in line on the waiting list for the new Swart Super 30, 2 cabs, and the atomic boost pedal.
If my wife doesn't GET IT, well, there will ALWAYS be other women, but how many times do you plug into something that will ALWAYS bring a smile to your face? Ask yourself how many times your woman brings a smile to your face. THEN go plug into a SWART AMP and look in the mirror pal , because THAT'S the look of a HAPPY GUITARIST!
Thanks for the TONE Michael.

Amazingly, a few days after Dave's rave testimonial made it to Swart Amps Online, we received a follow-up email by none other than Angela Ponte, Dave's wife, made indirectly famous in his last paragraph. Seems ole Dave is not only lucky to have one of the Limited Edition Swart AST Heads, he's apparently got a GREAT wife with a unique sense of humor. I was particularly enamored with her quote below her email - kh
To Whom It May Concern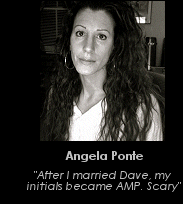 ;
For the record boys (and girls), this wife supports the musical aspirations of Dr. Bombay's most recent patient. LOL!
Even though after his recent comments he deserves a bop on the head with something heavy!

Not all women hate what their husbands love, at least not this woman.

Peace,
Angela Ponte
"98% of the population is asleep. The other 2% are staring around in complete amazement, abject terror, or both."

We can barely keep the Swart amps in stock. Usual advice is to grab one really fast before they're gone again!
The Atomic Space Tone is one of the finest amps you will ever play. It may look small, but it has some serious volume and incredible tone. Best of all, it goes to 11. Really. We've had some people in the store call this "the greatest amp in the world." It has the most beautiful tone and would look amazing in any living room. The perfect gigging amp. And there's nothing like the smell of the lacquer...
Jeremy
Boutique Tone

The Amp (AST) is Fantastic! BRAVO!
Hi Michael
Well...what can say about the amp? I am speechless!
Its really wonderful and the sound is incredible. The reverb and tremolo powered by valves sounds incredible.
You have created one of the finest amps anywhere.
I let some of my friends try it and they are so exited. This amp will be treasured. I have had a very nice cover made for it already. I would not be surprised if some of my friends will be in touch with you in the very near future.
Thanks again and happy holidays.
Regards,
Bo Halldorsson

Dear Michael,
I'm sure that you don't remember me. My name is Ed Ibarguen. I happened to be in Fat Sound when you were visiting. At any rate, it was that exposure to the sound of your amps that sparked my interest. They sounded great and in working through Stewart, as a long time customer, I was able to get my hands on one of your amps just back in stock. I played this one in the store - it sounded great so I bought it that evening. I played it for several hours that night at low volumes in my house. It wasn't until the next day that I could turn it up a touch and play around with the settings.WOW! Just absolutely incredible tone! SPECTACULAR!
I have played guitar since I was 12 - that's 42 years now! - I have had the pleasure of playing most of the great guitars through ALL of the greatest amps ever made. I can honestly tell you that I haven't heard any amp that got so much right as your Atomic Tone 20 watt, 6V6 Swart amp. Your amp is as harmonically rich as the finest amps I have ever played and although it's subjective over time and memory, it could be the best I've ever heard.
Somehow or another, you got the formula right - you figured it out. You amp is so sensitive to pick attack it's like having a tone control in your hands for every note. I'm quite sure that no other amp translates the sound of an electric guitar better than this one. The tremelo is clearly the best I've ever heard. The reverb tone is marvelous!
More importantly, I had to take a moment to write and thank you for this incredible jewel. In fact, every guitar I own sounds great through my Swart. I currently own 15 guitars and eleven great amps. Ironically, I was watching five amps on eBay auctions (always looking for the perfect tone). After playing your amp, I cancelled all of my bids and am going to list over half of the amps I currently own to sell myself. I have found THE amp I want to play - it's a Swart! The ones that I do keep: a Matchless, a Marshall, a Boogie or two, a Kendrick Trainwreck (actually, I'll probably sell it), two Fender's, and a Groove Tube amp will have to sit un-played because all I want to do is turn on your amp and play until I drop.
I called Stewart to thank him for carrying the amp, for putting me together with it, and with this letter, I just wanted to personally thank you. I can't even begin to express the enjoyment and pure pleasure that I have already had in playing this very special amplifier. I hope that I'll have an opportunity to speak to you again in person. You have a fan for life in me. As your career progresses and your product line grows, trust me you will have a customer in me.
Your friend in music,
Ed Ibarguen
Cary, North Carolina

Michael,
I have never enjoyed an amplifier as much as yours. The tones I got out of it last weekend were beyond belief. As I told you before, I've owned / or own every major amp / boutique amp etc known to man! Your Swart amp is the best I've EVER played. I was into Fat Sound talking with Stewart today and asked him if you had decided to make an amp with a bit more head room. He told me that you were making a few selected amp heads exactly to match the current Space Tone that I currently own. I'd very much like one as soon as I could get it. He also told me that you are going to make a speaker cab to go with it. I'd like one of those. Lastly, he said that you might consider making a head in the 35 to 40 watt range using possibly four power tubes instead of two. I'd like to own one of those as well and of course, as soon as possible. Do you have any of these amp heads and speaker cabs around the shop I could pick up next week?
In short, if Michael Swart is making it, Ed Ibarguen would love, no be honored to own it. PLEASE keep me in mind for any and all of these. You can e-mail me directly, call me at my numbers supplied. If this is all a possibility please follow up on it.
Thanks again,
Ed

My Swart Space Tone 6V6se arrived yesterday and I couldn't be more pleased. I like it much better than any of the lower wattage amps I've owned including Dr. Z Mini Z, Carr Mercury, THD Univalve, Zvex Nano head and a few silver & blackfaced Champs.
The Space Tone fits my taste perfectly. I love the bass response, how it breaks up and it's ample soul. Now I might need to get the Atomic Space Tone!
Thanks,
Scott R

To Stu at Fat Sound Guitars
"Stu, in the last few years that we've been doing business together...or with anyone, I don't think I've ever been this enthusiastic over an amp. I received the amp Friday, fired it up, and was just blown away. I was drenched in sweat I was so into it! You know when something is so right but in the back of your head you're thinking is it? - that's where I was. I must of played for about 2 hours before I realized I had a small gig that evening. Anyway, I took it out that night and it was so beautiful. This amp has so much sustain and awesome tube reverb & tremolo that you just sink into the sound..... I played that amp all weekend and never got bored with it. I think I've told you from the start I'm a one amp guy, a minimalist with effects, and I'm always looking for that one, I think I've actually found it....... This amp is definitely in a class of its own. It's quick, responsive and I love the sound of that 12" speaker. I've got 4 amps now and the other 3 seem like tools to me - you know something to get the job done with. The Swart was truly an extension of what I was feeling and it felt great, and that's something I've never achieved with an amp, or hardly a guitar. Whatever Swart is doing he's doing it right....."
Thomas H.
Cypress, TX

Well Michael…
I have found tonal nirvana. I have been searching for the perfect amp for my four string electric mandolin for more than a year now. I have tried a half a dozen amps (mostly Fenders) and have not found the amp that brought out the unique characteristics of these powerful little instruments until now. My Tweed 6V6se is everything I want in an amp, plenty loud, doesn't make the high e string sound shrill or weak or highlight only the G string. A nice even balance over all of the strings. Sparkling cleans and the way it over-drives is marvelous, beyond description. In fact, before this amp, I was thinking of taking my mandolin in to my local luthier to work on the pickups. I was thinking that maybe they needed to be rewound or something. I would like to thank you for making these great amps. By the way, my amp works equally well with my lap steel. Thank you.
Will Hardy
Buffalo, NY

In my long search for "the tone that defines my style", my journey has ended with Swart Amplication. I don't know about you, but everytime I get a new guitar or amp it can take a certain amount of time to learn it's character and best way to use this instrument to make music.( I do consider this type of amp to be an instrument itself.)
The first time I played through the amp I could hear the 3 dimesional depth and beautiful tone. This little 20 watter is surprisingly loud, so it took me a little while to get used to playing at full volume. But that is where I found that this amp that has a great clean tone can sing, shout and scream. And with the addition pedal that Micheal builts, here come the lead tones from heaven.
I my humble opinion, this amp is versitile enough for any serious guitarist.
Thanks again, Michael
Ron Johnson

Michael,
I just wanted to say thank you for your assistance with getting one of your Space Tone amps out to me in one day! My husband was absolutely thrilled with the amp (He said it was one of the best birthday presents I have given him…in fact, he intends to sell his old amp now because he claims he will never play it again, yours is so much better!). We love the amp and really appreciated your fabulous customer service.
Best regards,
Sarah Rosen

Hey Michael!
Everything is cool with my AST....everything sounds fantastic.
Amazing is the main word that comes to mind! This AST is just about the most musical, corpulent, juicy, jangly amp I've ever heard an electric guitar through. Had a few guitar geek friends over last night for the big "tone evaluation" thing and after strumming a few simple open chords with the volume around 4, tone at 5 and verb at 5, everyone's mouth dropped open while the chords rang and swirled through the room. Simply sublime tone. And the tremolo is just in a league of it's own.
Compared to my Carr Mercury, the AST has a far more complex tone, with stringy, piano like lows, juicy mids and upper mids and the highs are rich and creamy without being strident. Unreal. The Mercury has always had this cool fundamental overtone which is always present while the AST actually has multiple overtones - kind of like piano chords. The feel is incredible as well, it's really an interactive amp that seems to be an extension of you're hands rather than just sound reinforcement for you're guitar. We swapped some different rectifier tubes for comparison and all sound great. Just a totally inspirational amp to play.
And thanks so much for you're patience with that poor first AST. The be-heading of the speaker at the hands of the UPS terrorists was incredibly disturbing, and a hassle for you as well. I really appreciate you shipping out that second one so fast - thanks again and the best of luck to you!
Sincerely,
Paul Berty

Hey Michael,
Thanks for the Atomic Boost pedal. I have been using it since Raleigh. It sounds amazing. It's wooly and warm. My other boost pedal is gathering dust. I looked at your website and I would love to buy one of your amps. Which one do you recommend? I'm thinking the 5 watt amp.
Great job,

Joey Santiago
The Pixies

HEY man!!! What the hell is this thing??!!??
I haven't heard or played though a piece of hardware this cool since a old S Hawk Ltd distortion /preamp unit I owned back in the early 70's!!! The old S. Hawk Ltd. looked like a EH LPB-1... And IT was the ultimate tone maker for me... The search for tone like it or better was on since it was destroyed in a fire back in the day...
Any way, this boost has got to be a way better unit than a Dallas I owned a good while back. Man, I don't know about the other treble boosts that are in existence now a days but yours is absolutely wonderful!!!!! Glad I had a wild hair and shootin' blind on your pedal!! I thought my tone search was done after the COT 50 and OCD....
You blew that notion right out with both barrels, man!
HEY good luck and best regards to you and your family,

Gerry Nelson
tucson, AZ

Unbelieveable sounding 20 watter with a single 12" speaker, wonderfully rich vintage style tremolo, deep reverb and amazing tone. Regardless of what type or types of guitars you play, the touch sensitivity, dynamics, swell, musical compression....everything about this amp....will just blow you away. I have had more fun playing this amp. My Les Paul and Strat have rarely been played so good! Don't ya just love an amp that makes you play over your head and inspires you to brerak out of your rut? The Atomic Tone offers enough volume, headroom and dynamics for small club use, but even at 20 watts I find it extremely useable around the house.

Stu
Fat Sound Guitars

"Dude! I'm stoked!
I received the amp Friday, fired it up, and was just blown away. I was drenched in sweat I was so into it! You know when something is so right but in the back of your head you're thinking is it? - that's where I was. I must of played for about 2 hours before I realized I had a small gig that evening. Anyway, I took it out that night and it was so beautiful. This amp has so much sustain and awesome tube reverb & tremolo that you just sink into the sound. From the start this amp reminded me of my '64 deluxe but better - it's actually the first amp I've ever thought that sounded vintage to me. Just between us - those other amps I own may be up for sale."

T. Hughes

"The AST arrived here early this afternoon in perfect condition.....I plugged in with my G&L ASAT Special for my initial observations and was extremely impressed with the range of overdriven tones I could get- at one point even straddling the amp to hear both sides of the amp at once because as embarrassing as that sounds, they really are two different tones emminating from front and back..... the overdriven tones from the AST are tremendous- and these guys that say there is no need for pedals are right on.The AST is very immediate and holds together beautifully.
I cannot reference the AST to any of the other tones that my previous amps delivered. It is comfortably familiar, but there is an underlying quality to the sound that is rich in texture and sounds like an old record. Thanks again"

Steve S.

"Well, I put it through its paces last night for several hours and all I can say is it's nice to finally hear just what I've always wanted an amp to sound like!! Even at volume on 3, the high strings sounded thick and horn-like, while the low strings remained clean. It's really shocking what he's gotten out of this circuit. The truly useable and amazing thing is there is no real transition between clean and overdriven. It's all on a continuem. You think you're playing clean, then you dig in on the high strings on the upper fretboard, and you've hit that sweet bluesy breakup.
You're right---it doesn't remind me really of any other amp. It's old school all the way. Now you need to stop selling them so not everyone can cop my tone. (Although, the beauty of this amp is that it is so detailed that an individual's hands and touch come through completely, making everyone sound unique)"
Brad S.

"Finally had some time to spend with the Space Tone today and I can honestly say it is the most organic amplifier I've ever played....it just seems so sympathetic to whatever your throwing at it...truly marvelous. The responsiveness, dynamics...whatever you want to call it are married to sweet tone that simply reacts to your intentions.
Beautiful stuff man."
John E.

"The amp (20 watt Atomic Space Tone)is, well, just tremendous. I'm really astonished (yeh, astonished) at the number of tones I'm getting in just a few minutes of noodling around with it - and that's not adjusting the tone on either amp or the Strat - no pedals - nothing - just totally straight up.It's very responsive and pretty amazing! Michael should be congratulated for having come up with it- and you guys for taking him on...."
John A.

"Wow... The amp responds very nicely to playing dynamics (I could easily go from sweet and clean to a little hairy to nice and dirty brown by simply playing harder or softer), and the tone and volume controls on my axe seemed to be voiced better.

Man, I really had a blast putting this thing through it's paces tonight, and I originally didn't even notice how quiet the amp is.

I am seriously loving this amp right now.

Robert Strait
New York, USA
---
©2004 swart amplifier co. wilmington nc 910.620.2512
info@swartamps.com
design & hosting by